LetsIgnore
The World Famous Message Boards at LetsRun are the best source on the internet for running news, training strategy, race discussion, and other running information. They also tend to be a loosely moderated, registration-free dumping ground for wingnut conspiracy theories, endless political rants, tireless repetition of overused memes, and sometimes even flat out bigotry and hatred. The quality running info can get lost amid the chaff, so I decided to do something about it.
LetsIgnore is a Firefox extension that allows you to ignore threads and users on the Letsrun forum. Click the 'X' button next to a thread and you never have to see it again. Click the 'X' button next to a user name and you never have to see another post or thread by that user name. LetsIgnore also removes text ads embedded in the forum index that would otherwise slide by the Adblock Plus filters.
Download
Download LetsIgnore for Mac, Windows, and Linux:
LetsIgnore Version 0.1.0.0 (Requires Firefox 3.5 or higher)
Firefox may give you a warning that it prevented this site from asking you to install software. Click 'Allow', then click to install and restart Firefox.
LetsIgnore is free software. It's free as in free beer, but it's also free as in free speech. The source code is here. You are free to do as you please with it under the provisions of the GPL. If you have the right skill set, you are encouraged to help add features.
Ignoring Threads
After installing LetsIgnore, you should see buttons next to each thread on the forum index like in the following image. Click the button next to a thread to ignore the thread.
Ignoring Users
Ignore buttons will also appear next to user names on each post. Clicking the button will ignore every single post by that user name, not just that individual post. You also won't see any threads started by that user name in the main thread index.
LetsIgnore Preferences
LetsIgnore can be managed by selecting LetsIgnore from the Tools menu.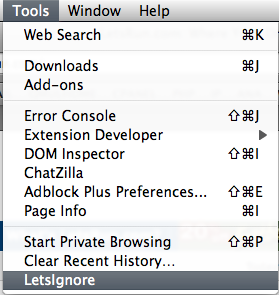 The preferences allow you to enable/disable ignore functions and remove some extra ads that Adblock Plus doesn't catch. Each preference is explained in more detail by selecting the preference row in the LetsIgnore window.
Managing Ignored Threads
The Ignored Threads page of the LetsIgnore window displays a table of your ignored threads. If you change your mind about an ignored thread, select the thread and click the 'Unignore Selected' button.
Managing Ignored Users
The Ignored Users page works just like the Ignored Threads page. You also have the option of manually entering user names to ignore.